Dancing dwarfs, a truly evil queen, a handsome prince and the fairest princess in the land take center stage in the timeless tale of "Snow White and the Seven Dwarfs," Feb. 27-March 8 at the O'Shaughnessy Center in Whitefish. And did we mention the hysterical Witch Hex?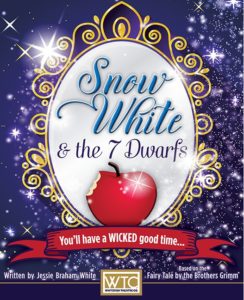 The Whitefish Theatre Company presents the captivating tale, which opens with a sneak preview night at 7:30 p.m. Thursday, Feb. 27, and continues at 7:30 p.m. Feb. 28-29 and March 5-7, with matinees at 4 p.m. Sundays, March 1 and 8.
Based on the Brothers Grimm fairy tale, this classic version of the story begins with the beautiful Snow White serving her stepmother, the evil Queen Brangomar. However, when Snow White and Prince Florimond fall in love at a ball, the evil queen becomes envious of Snow White and goes to great lengths to get rid of her, including conspiring with Witch Hex to make Snow White take a bite of the infamous poison apple. While almost everyone knows that the lovable and clever seven dwarfs save the day in this cherished tale, a cast of supporting characters breathes new life into this treasured story, surprising and entertaining audiences of all ages.
"Snow White," a beloved German fairy tale published in 1812 in the first edition of Grimm's Fairy Tales, was widely popularized by the 1937 Disney animated classic.
"Even to this day, Disney's groundbreaking musical fantasy film seems to reign as the interpretation most well-known to fans, myself included," says director Rebecca Spear. "What a delight it has been to make the old version new again by sharing the 1912 Broadway play adaptation by Jessie Braham White. The cast and I have had so much fun bringing this Brothers Grimm story to life."
Spear reunites with WTC for this show after directing other family favorites including "Seussical: The Musical," "Charlotte's Web," "The Hobbit," "The Miraculous Journey of Edward Tulane" and "Alice In Wonderland."
The cast of "Snow White and the Seven Dwarfs" is comprised of 29 talented adult and young actors from all over the Flathead Valley, including Gabby Pickert who plays Snow White, Kara Bauer as Queen Brangomar, Tyler Williamson as Prince Florimond, Lenny Granger as Witch Hex, and Meyer Fauth, Landen Pullen, Kendall Dolan, Kendall Dye, Aubrey Smith, Devyn Shough and Liam McNamara as the seven dwarfs.
"Having a cast of both adults and children is a special kind of collaboration – a true community," says Spear. "I am also so thankful for the spectacular village of people who make shows like this happen!" The crew includes technical director Robbie Moody, costumer Lea Shanks, lead set-builder Fred Warf, and sound designer Nick Spear.
Tickets for the sneak preview on Feb. 27 are $12 for adults and $10 for students and are available only at the door. Tickets for other performances are $20 for adults, $18 for seniors, and $10 for students with reserved seating, and are available at the Box Office at 1 Central Avenue in Whitefish (open 11 a.m.-3 p.m. Monday-Friday and one hour before performances), by calling 406-862-5371 or online at www.whitefishtheatreco.org.