The inaugural Feast Whitefish, May 14-21, is the 21st century re-incarnation of the time-tested Taste of Whitefish, the one-day event that's been held for the last 27 years in September. The reinvented event debuts in 2016 with a new name, a new date, eight uniquely Whitefish culinary experiences, and a new focus – highlighting the very best that the Whitefish dining scene has to offer, and then some!
The Feast kicks-off on Saturday, May 14, with an Opening Night reception, 4-7 p.m. at Grouse Mountain Lodge; continues May 15-20 with the Feast Week Dinner Series in six local restaurants; and concludes on Saturday, May 21, with Montana's first-ever Food Truck Festival in Whitefish Depot Park.
"Feast Whitefish picks-up where the Taste of Whitefish left off," said Chamber executive director Kevin Gartland, "and it takes our town's signature food and drink festival event to a new and different place … into the very restaurants that define the Whitefish dining scene.
A 'spirited' Opening Night soiree
Montana-made spirits and outstanding appetizers will take center stage at the opening night "Distillers' Fest," 4-7 p.m. May 14 at Grouse Mountain Lodge.
The micro-distillery "craze" has exploded in recent years, with two new distilleries opening in Whitefish in the last four months alone. Event chair Lauren Oscilowski of Spotted Bear Spirits says attendees will sample vodkas, whiskies, cocktails and more – all produced by eight of Montana's most popular micro-distilleries – while also having a chance to meet the "makers," and get a glimpse inside the increasingly-popular world of handcrafted spirits and designer cocktails.
Opening Night event-goers will also enjoy the very best finger foods that the Whitefish area has to offer, as a handful of local restaurants put their best appetizers on the table and compete for the prestigious "Best Taste of the Feast" Award.
Tickets are available now at www.feastwhitefish.com, or by calling the Whitefish Chamber at 862-3501.
Top chefs team-up for 'Dinner Series'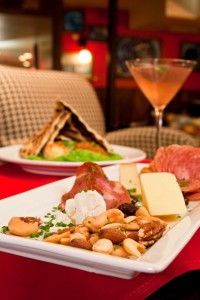 Feast Week continues May 15-20 with a series of unique, multi-chef "collaboration" dinners hosted by six top Whitefish restaurants, including Café Kandahar, the Whitefish Lake Restaurant, Latitude 48 and the Boat Club.
Over the course of the week, 15 top chefs from Whitefish, northwestern Montana and beyond will collaborate to create a series of intimate, one-of-a-kind dinners designed to showcase both their creative artistry and Montana's natural bounty.
Each night, the host restaurant and its "guest chefs" will combine menus, trade kitchens and join forces to create unique dining experiences, and engage in a bit of healthy competition at the same time.
Feast Week dinners feature a three-, four- or five-course fixed-price menu, paired with outstanding domestic and international wines and/or Montana-made craft brews and spirits. Reservations for the events at Whitefish Lake Restaurant (May 18) and Café Kandahar (May 20) and other venues are available now at www.feastwhitefish.com. Seating for all dinners will be extremely limited … make your reservations early, so you're not left out!
Food trucks, carts, tents & more …
Food trucks. Almost overnight, they've gone from hawking cellophane-wrapped sandwiches, stale Cheetos and cold coffee to become the Next Big Thing in the foodie universe … and it's obvious that the food truck craze won't be running out of gas anytime soon.
They've got their own reality show – "The Great Food Truck Race" – computer geeks build food truck locator apps for our smartphones, they've graced the silver screen in "Chef" … and now they're rolling into Whitefish!
Feast Week 2016 wraps up 10:30 a.m.-6 p.m. Saturday, May 21, with the first-ever Food Truck Rendezvous in Whitefish Depot Park. Food trucks, carts and mobile food vendors from throughout western Montana, northern Idaho and beyond will converge on Whitefish for the event, delivering some of the most scrumptious, affordable and delightfully fun food imaginable, straight onto the sidewalks of Whitefish!
While the new breed of mobile chefs is busy peeling, chopping, slicing and dicing in a parking space near you, festival-goers will enjoy non-stop live music by top regional acts, may turn the youngsters loose in the Kid Zone activity area, and can relax in the Feast Whitefish beer and wine garden featuring top Montana micro-brews.
Adult admission is $10, and includes $6 in "Food Truck Bucks" that can be used throughout the festival for food and drink. Kids 12 and under are free with a parent; tickets are on sale now at www.feastwhitefish.com.
For more information, call the Whitefish Chamber at 406-862-3501.