Sweetgrass Blues Band, a nine-year-old electric blues band from Helena, has its inaugural CD out. It features 10 homemade rockers written by founder and guitarist Mark Dixon. He's originally from Oklahoma City, and has been a Helenan since 1994.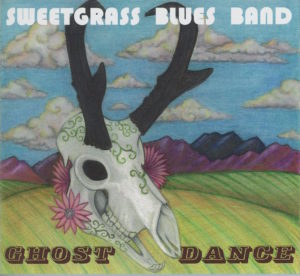 Dixon took up the electric guitar at age 15 and brings a southern sensibility to his work; you can hear influences like Stevie Ray Vaughan and ZZ Top wafting through the pieces.
Joining him are Helena natives Trevor Hult, an in-demand studio bassist, and timekeeper Jay Hutchinson thwacking the drum skins. Don't forget Great Falls native Cole Bass on tenor sax and keys, who daylights as a high-school band teacher. Laurie Zupan shares vocals on "Cowboy Cadillac" and "When the Lights Go Out."
With Dixon on lead vocals and Hutchinson and Bass singing harmony, Sweetgrass puts out the funk. Lots of sax and guitar leads fill out the sound, and The Allman Brothers, B.B. King and Van the Man seep into the music, along with Motown and jazz styles.
On "Buddy's Blues," the band expands on and quickens the chunky opening chords of the Guess Who's "American Woman"; honkin' sax and crisp trap work give way to fluid guitar lines as Dixon sings. It's got an excellent soulful groove.
Hip-shakin' country rocker "Cowboy Cadillac" finds Dixon trading the old truck for a fast Caddy to chase women because the oldie "won't do much more than 85." Ha!
The slowed-down foot-stomper, "Black Widow," has snaky guitar and sax; superstition abounds in black cats, bad dreams and bad luck. On "Summertime Girl," with its fuzzed-out guitar and '60s chord progression, Dixon sings about the idyllic old days of summer fun and falling in and out of love.
There's even one for Billings: "Magic City Strut" swaggers. It's a finger-snapping shuffly blues instrumental that has rockin' bass.
This is a nice first effort from a savvy blues band!
Visit facebook.com/sweetgrassbluesband.
– Mariss McTucker